All About Recorded Assessments (Playing Tests)
In the 2020/2021 School Year, recorded assessments are being changed significantly to accommodate the unusual protocols required in response to COVID-19. This means that List A and List B pieces will not happen this year. Instead, smaller, "bite-sized" assessments will be taking place far more frequently.​

Students will be assigned simple 4-8 measure assignments that they must complete on a weekly basis. As we are unable to play as full ensembles for a time, this will be the manner in which we ensure students are performing on a regular basis, and developing their skill. These tasks should take no more than 15 minutes each week.

List C Piece
Formerly called the "List C" piece in previous years, this is a piece students select, but they can come from any source (pop, movie theme, classical, jazz, etc.). They must not be too challenging or underwhelming. This will be the only large individual musical project for the year. Mr. Windsor arranges the students' choices for their instrument.

Percussionists are encouraged to make any selection they wish, and are welcome to play their selection on the piano.​
Festival Solo Pieces
Students are encouraged to participate in local festivals as soloists. Mr. Windsor has a huge array of music available for performing that students may select from, or make other selections. Some of our resources include Royal Conservatory of Music Repertoire books for their instrument, Standard of Excellence Festival Solo series, and Val Sherman's Festival Solos. These selections challenge the student to perform their instrument soloistically, and demands that they have strong skill on their instrument.
Every student is also given access to an mp3 Piano Accompaniment they can use to practice within Charms. Accompaniments are also available in Charms. Those accompaniments become unavailable after their due date.

Students may then register for local festivals (The Airdrie Rotary Festival for the Performing Arts is our primary choice), and will be accompanied by Mr. Windsor, Mr. Phu, or another pianist at that festival. These festival experiences are invaluable, and heavily encouraged, such that the fees for these festivals are oftentimes subsidized for the students.

How do students submit their recordings?
Using

PracticeFirst and Sight Reading Factory, tools in the MusicFirst suite of tools. Students will have this tool demonstrated to them in class.
They are recommended to play their piano accompaniment in their headphones, and record using any internet-connected device with a microphone (smartphones, tablets, laptops, etc.). I've even had one student submit through their X-Box, although I have no idea how they did so.
How can I help as a parent or guardian?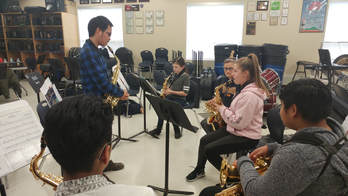 Check out Charms yourself
(you too can use the
Charms Blue Android
or
iPhone/iPad app
) to see if they have submitted their work. If it is listed as Late, resubmissions will not be accepted, but the initial submission still needs to be sent in.
You can also help by giving your student a regular space and time to practice their music. They should practice every day, but it shouldn't need to be more than 10 minutes each day. Even 5 minutes each day should work. This does not equate to over a half hour once weekly, as practice with lots of time in between is far less effective than making a regular habit.
Sometimes the greatest help you can give is to help your student get their assignments submitted. No student has had challenges with the technology for over a year, but just in case, I still recommend the use of Chrome over any other browser, and you must give your browser permission to use your microphone.
---
| | |
| --- | --- |
| | These playing tests are ways your student demonstrates their musicality, their creativity, and their understanding of beauty. They must actively develop connections between both hemispheres of the brain to succeed. They must develop self-discipline, trustworthiness, and collaborative skill in order to succeed. These are the habits of Engaged Thinkers and Ethical Citizens with an Entrepreneurial Spirit. It is the only school-based activity that consistently exposes students to these growth mindset habits, habits that cannot be duplicated by any machine. Students must engage in these activities to reap the benefits. These recording assessments are just one way students do so. |