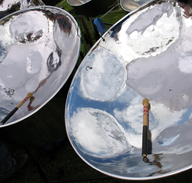 On September 9, 2015 at 6:30 PM, we will be kicking off our 2015-2016 season for Steel Panning. This will be the meet time for all steel panners regardless of age, or which ensemble you ultimately participate in.

This day will be a (re)introduction to the instruments, and in this evening we will determine who will be members of which groups, as well as the meeting times for each group. This year the groups will be organized less by Students/Adults, and more based on musical interests.

The Steel Pan Ensembles are the first true "musicking" ensembles of the Notre Dame Collegiate music program, and in order to stay true to that philosophy, we must make sure individuals participate in groups that play music that interests them. This is why there is a small shift in how the groups will be assigned.

We are really looking forward to another year of bringing Caribbean sunshine to the dark months of Alberta! Whether you have been involved before or not, we will find the right ensemble for you! Come join us Wednesday night!